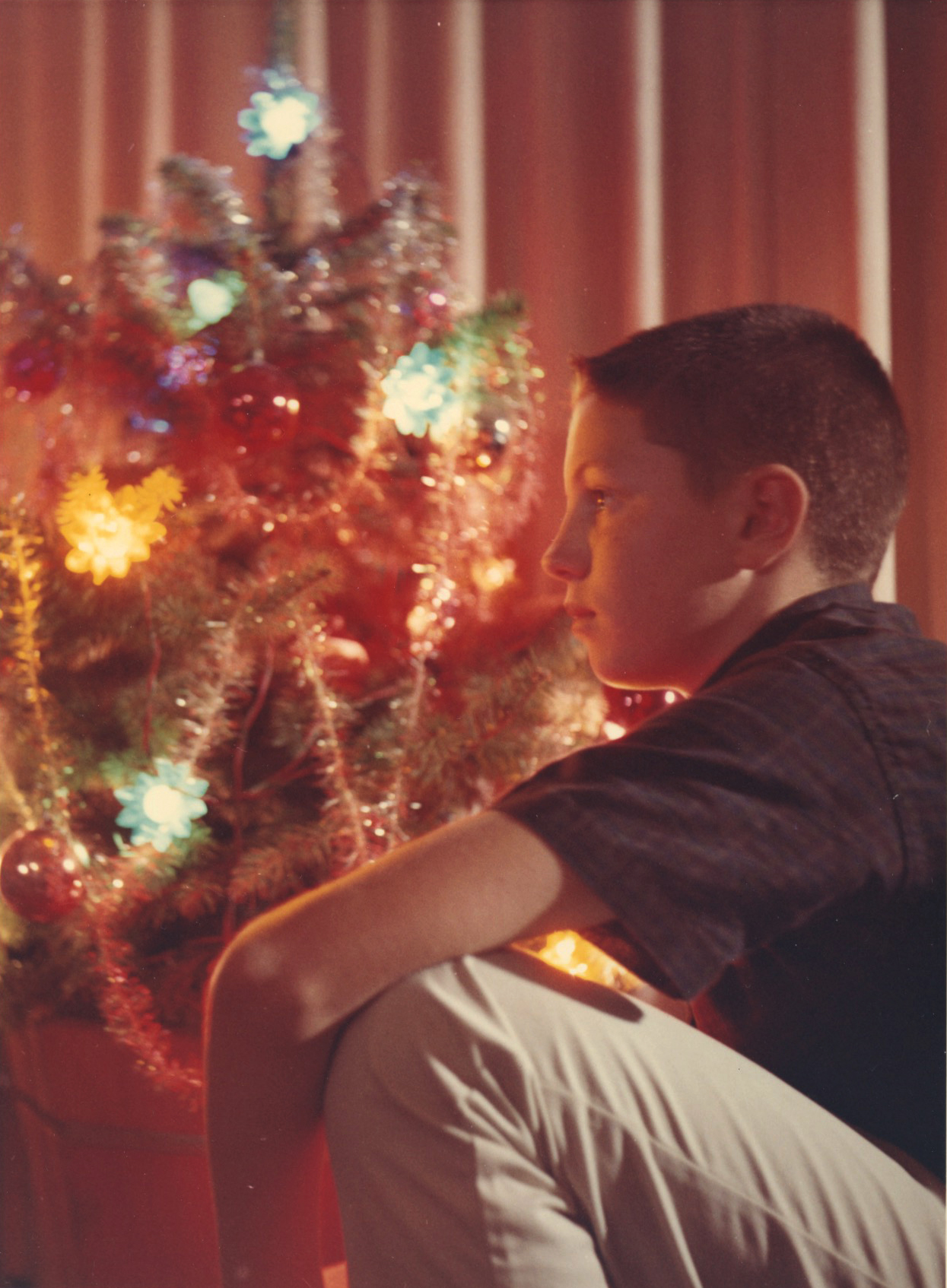 As I've said, the move to California was the undoing of us all—both as a family and as individuals. In A Patchwork Memoir I wrote a vignette I called "Little Guy":
 One Christmas I took a picture of Doug—crouched in front of our decorated tree—that my uncle Rob, my mother's older brother, admired. An amateur photographer, he was impressed that I'd gotten such a beautiful hand-held time exposure. I had it enlarged and proudly sent the framed photo to my father as a Christmas gift, but his only response was to comment in his next letter that it captured Doug's "coldness." Among the letters I wrote my dad as a teenager that he sent back to me a few years ago is one that comes as a complete surprise to me:
"Doug did write you a letter—before Christmas. But you never answered it, and he felt really bad about it. He picked out your Christmas present too. I think you're much too hard on him. He's not the ogre you seem to think he is—although he is pretty hard to get along with some of the time. If he neglects writing to you, it's not because he's unfeeling; it's just that he doesn't stop to think how much a letter from him would mean to you. He's too wrapped up in his own problems—which is natural for kids his age. And you can understand why he would have problems. He has to live with his burn, which he looks at as a major deformity, and he's growing up without a father and has no one to model himself after or look up to. Here he sees you as practically perfect and defends you to the hilt, and then you reject him. I don't think you can expect a little guy of fourteen to have mature compassion and sensitivity. I wish you would write him—he needs someone to care about him and what he does."
Beyond telling the story behind the burn scar on his cheek, I realize that up until now I haven't said much in my blogs about Doug, who'd never wanted to leave Minnesota in the first place. For one thing, he'd never been as intimidated by my father as I was. For another, he remembers his last year in St. Anthony Park, despite the divorce two years earlier, as a pinnacle in his life—a time when he excelled in school (where he was recognized both for his intelligence and his athletic ability), had good friends, and was popular, even with the girls.
But as the new kid at Whittier Elementary School—a kid with an unsightly scar—he was teased and bullied in a way he never had been in Minnesota. And from the time we arrived in Berkeley, he would treat not just Mom but me as an antagonist. Because I'd wanted to move to California—he would eventually tell me—he saw me as complicit in the loss of his happy life.
In a Patchwork Memoir I also wrote the following vignette:
TARGET
I've always suspected that one of the reasons my brother was so angry at me for so many years is that, as his big sister, he saw me as a surrogate parent and expected me to rescue him from our abusive mother. He couldn't see that I too was just a kid, as miserable and mixed up as he was, who needed rescuing as much as he did.
If our mom was constantly inventing reasons to get angry at us—things she mistakenly thought we'd done or imagined that we were going to do—my brother had a different m.o.: Knowing all my triggers, he would needle and bait me until he got a rise out of me—and once I got mad, he would lash back. He seemed compelled to demonstrate to himself over and over again that I was the heavy—I suppose because, while he needed a target for his own rage, he also needed ongoing "proof" that it was justified. Because all he would ever remember of these transactions was my eventual heated response, and all he would take away from them was the delusion that I was the source of all the contention between us.
Looking back now, he remembers how angry he was and has hinted to me that there were things he did back then that he doesn't want to tell me. But he still insists I persecuted him for years. "How?" I ask. "What did I do?"
"You said nasty things to me—you said I didn't have any friends!" he accused me.
Which left me dumbfounded because that wasn't what I'd said to him; it was what he'd said to me. Is he so bankrupt of anything real to hold against me, I wondered, that he has to put his own cutting remarks into my mouth? And I pointed out to him that it couldn't have happened the way he remembered it because I was the one who withdrew from my friends in eleventh grade, while he always had a circle of good buddies he played sports with.
It wasn't until we were in our thirties that he was finally ready to have a dialogue with me—and what surprised me most to discover was that we'd both felt, after the move to California, that we'd had to raise ourselves. "I always knew that Mom loved me though," he said. Astonished, I said, "I always thought she hated me!" And I couldn't help wondering how different our adolescence might have been if we'd been allies instead of adversaries.