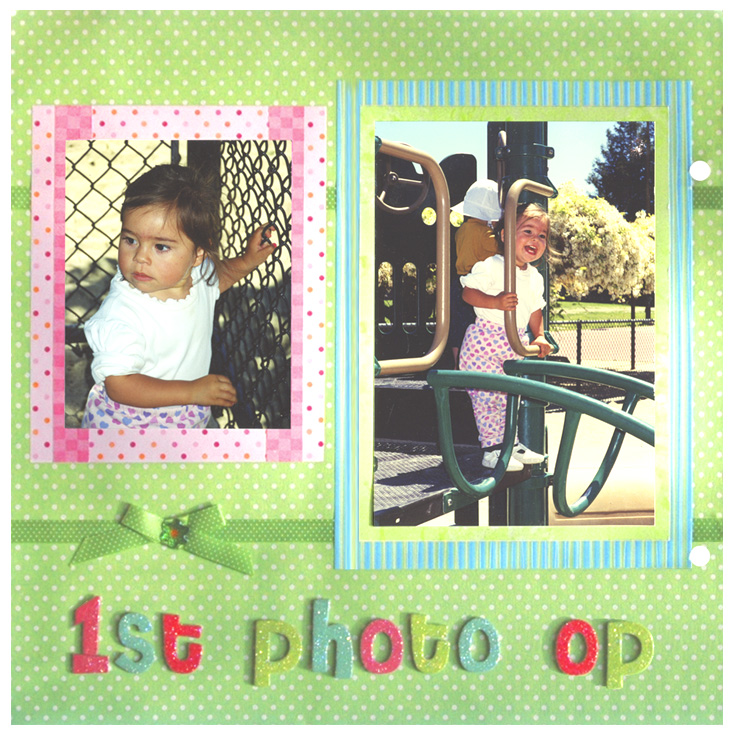 One of the things I'll be featuring on my website is activities that kids and grownups can do together—like scrapbooking. The page above is from the scrapbook Arielle and I started when she was in elementary school, chronicling our favorite pastimes. "Us, Livin' the Life" she titled the front cover we made out of bright poster board.
I designed the page above to celebrate our first play date, which Leia had arranged. (When I'd arrived at Live Oak Park, two-year-old Arielle was about to climb into a play-structure tube. Scampishly, I peered in the other end of it—and she waved me away with a scowl.)
At the start of our project, I took her to Scrapbook Territory on 4th St. down by the bay, which has to be the best scrapbook store ever—or should I say had to be? (I'm still not reconciled to it going out of business.) It had aisle after aisle after aisle of papers arranged by color, texture, or theme, an astonishing array of ribbons I still use for the doll clothes I make, fanciful adhesive letters, and every kind of—flat—miniature you can imagine.
Besides poster board for the covers and colorful papers, you and the child in your life will need:
Two metal rings, scissors, a hole punch, a ruler, glue dots in different sizes, a glue stick, adhesive letters, assorted stickers, colorful brads, ribbon, and, if your kid likes bling, also glitter, sequins and stick-on gems.
I would also recommend you buy a plastic 14" x 14" scrapbook bin for storing everything.